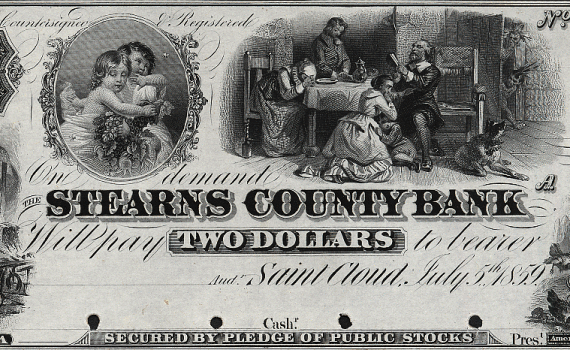 This weekend at the MOON coin show in Brooklyn Center I acquired two rare proofs on Stearns County Bank of St. Cloud from collector/dealer Dave Steckling of St. Cloud. He purchased these from the Schingoethe Collection at auction back in 2005 and 2006. That was a busy time for me as well, having to pick and choose what I could afford in those landmark sales. Dave very much enjoyed owning these notes, and was glad to see them go to a good home.
In my opinion the $2 is the best note of the series, having four vignettes with a magnificent central vignette. If you look carefully at the right side, you can Indians sneaking into the door of the pilgrim family's house.
I had acquired the $1 note of this bank about two months ago — they had all been on my wish list for a long time.